Interview with Karen Sandor, Director, FedChoice Board of Directors:
"Keep on, Keepin' on."
Please share your story (where are you from? Your education and professional experience)
I was born and raised in New Jersey, near the beach, and spent many summers frolicking in the ocean as a kid with my brother and two sisters.  My dad worked in New York City, and I always enjoyed when he'd come to the beach after commuting home on the train and we'd have dinner there. Sometimes the sand would blow all over our food and my mom would try to convince us that it was pepper…gritty pepper? That was a great area to grow up in, yet I wanted to expand my horizons, so I ventured off to college at Marymount University in Arlington, VA.  Fast forward a few years and I wound up being hired by what was then the Internal Revenue Federal Credit Union, later FedChoice FCU. Honestly, I didn't know what a credit union was, but I quickly came to understand the benefits of credit union membership!
Fast forward a few more years, 42 to be exact, and I retired from FedChoice as the Executive Vice President.  It was a true joy working at the Credit Union all those years, in many different roles, always surrounded by people who passionately worked to serve our members. And that family of FedChoice employees exists today, it's such a wonderful and supportive culture of people helping people; both fellow employees and members!
Where did you work prior to joining FedChoice?
I worked very briefly at an employment agency in Washington, DC and, boy, what a difference between that culture and the one I came to enjoy for over four decades at the Credit Union!  But that agency had a purpose in my life because it was through them that I wound up at the Credit Union.  I was initially devastated that the job I held at the employment agency was short term (unbeknownst to me!) but it led me to such a fulfilling career at the Credit Union that I should thank them!
How long have you been with FedChoice and what is the secret for its success? Who were your mentors?
Well, as I mentioned before, I retired from FedChoice in 2022 after 42 years…I have to say, that time went by very fast.  I think that's due to the culture inside the Credit Union, it's like a family who mentors each other to learn and grow. And that started with the gentleman who hired me, Floyd Schlueter, who was our President & CEO for many years.  Mr. Schlueter, who was my mentor extraordinaire, liked to say, "Keep on, keepin' on," and that was as much encouraging as it was motivating.  He believed that each of us has unique potential and he cultivated that by challenging us to develop our talents and deliver the very best service in whatever role we played.  He also challenged the Credit Union to take risks and expand member services.  I remember early in my career, it wasn't commonplace for credit unions to offer checking (share draft) accounts, but that didn't stop him. We kept on, keeping on; and introduced checking accounts! I learned the art of respectfully challenging the status quo working for Mr. Schlueter.  That is a life lesson that has served me well and I think a large part of FedChoice's secret for success.  The current tagline of being "Altogether Better" is not simply words, that thinking resonates with each of the employees and volunteers.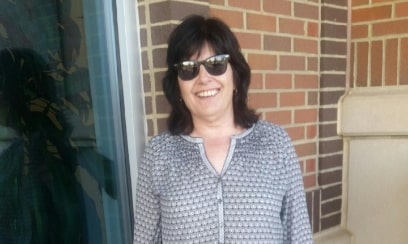 How is working for a credit union different from any other work?
The biggest difference, to me, is that the members you serve each day are the owners of the credit union, it's a cooperative. And credit unions don't exist to make a profit, so the mindset is all about how to best serve the membership/owners. This mindset lends itself to a culture of cooperation amongst not only employees but also between credit unions. That spirit of helping each other is unique to the credit union community from my experience.
Tell us about your work with the Tangerine Foundation. Why was it created? What is your message to young people about retirement plans?
On the topic of helping others, the Credit Union Foundation was initially founded to offer the federal community a trusted partner that could help understand federal benefits and retirement planning. Considering FedChoice's roots in the federal community, it made sense to provide unbiased and objective financial literacy. I was aghast once when I discovered a website that suggested that financial planners target the federal community because they have large Thrift Savings Plan balances. People, whether FedChoice members or not, should have access to financial literacy information without worrying that there is a hidden agenda. So FedChoice created the Foundation to provide that. I'm very happy that the scope of the Foundation has expanded to offer financial literacy to a broader audience – the more people who can learn sound financial skills, the better!
What is your life's motto and why? What do you like to do in your free time?
That's a tough one because I "collect" quotes so I have many inspirational messages on my radar. But perhaps my life's motto is exactly what Mr. Schlueter taught me so many years ago,"Keep on, keepin' on." Whether that means continuously expanding your knowledge and talents, triumphing over adversity, or simply handling daily life, the conviction to believe in yourself, in your fortitude and resilience to keep moving forward and learning is a powerful and positive motto.
Ah, my free time…I have lots of that now that I'm retired! I am insatiably curious about many things so I love to explore new topics and places, read, take online classes, journal and write, research my ancestry, gardening, being creative, all the things I had limited time for when I was working. I also love spending time with my three grandsons! And I'm one of the volunteer Board members for FedChoice.
Do you have a message to our members?
Yes! I want to thank our members for their membership and trusting their finances to FedChoice. It's a responsibility that we don't take lightly. And I'll add a great quote from Ben Franklin, "An investment in knowledge pays the best interest." Be a financial advocate for yourself! Learn all you can about finances from trusted sources and ask questions.
Related Posts