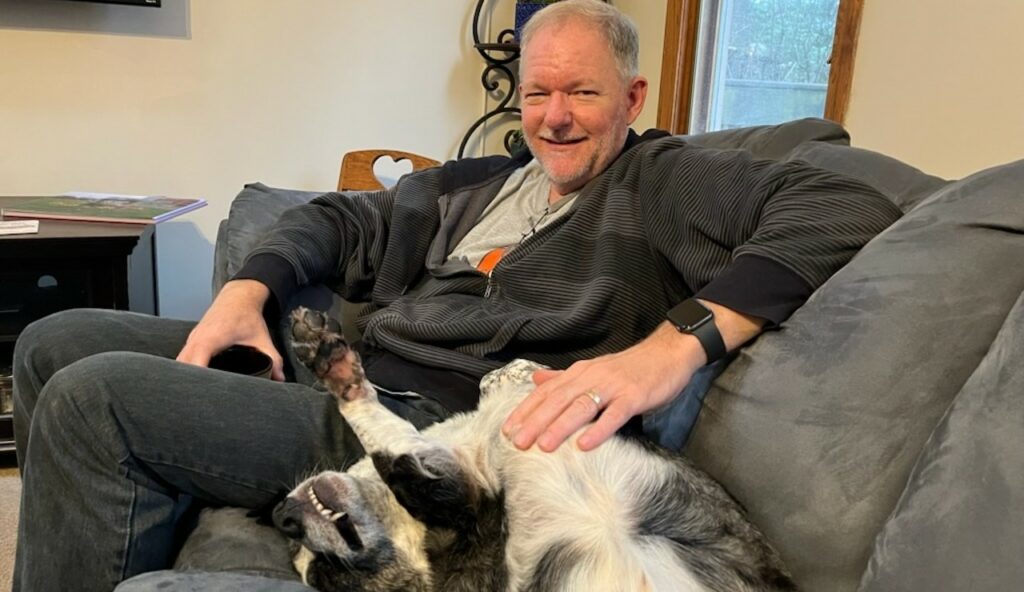 "Most people climb the corporate ladder. I just took the stairs.": Interview with Brett Noll, Chairman of the Board, FedChoice Charitable Foundation
I grew up in a small town in Upstate New York following my sister and brothers' decision to attend The State University of New York at Geneseo. After graduating, I immediately moved into the dank basement of a Rochester, NY, house shared with five other guys. There I paid $100 a month rent to live and store all my worldly belongings; a mattress, dresser, clothes, iron, and mini-ironing board. I was fortunate to have a car as well. I worked in financial sales and retail management before finding credit unions. It's amazing to look back and see how those first jobs gave me vital experience that contributed to my career path.
Keeping the theme of basements, I started my credit union journey as a Business Development Officer, where my office was located in the basement of a school. Most people climb the corporate ladder. I just took the stairs. I've worked in many different positions on my way to becoming a CEO, the first paying $8 an hour, and I loved it.
There is something special about credit unions…
I've been fortunate to work at credit unions large and small and even worked with a couple, Len and Molly Szumiloski, who were instrumental in creating a credit union that served the local school system. When they began, the credit union corporate headquarters was their living room. Teachers, janitors, and others came by after school to make deposits or apply for loans, all for the purpose of helping each other get better deposit rates and more affordable loans. Eventually, the concept became so successful, Len and Molly left their education careers and committed to running the credit union full-time. They moved their home-based operation into one of the schools, where I later worked in the basement. As the credit union continued to grow, we were eventually able to build a beautiful new headquarters building for our members. Seeing the success of this credit union based on the value and care it provided to members, helped me see that I wanted to make a career in the Credit Union Movement.
It is truly all about 'people helping people'
It has been a wonderful experience working in the Credit Union Movement. It truly is all about 'people helping people'. We exist to improve the financial well-being of our members and that effort is done with a smile. I've worked at five different credit unions in four areas of the country and I can say with 100% certainty, it's an industry full of good, positive people who want to help others. The cooperation and support even among credit unions in the same area is absolutely amazing. I feel very fortunate to have found this industry.
I've had so many people I've looked up to and learned from in my career…
I'll mention just a couple here. My first CEO, the man who started the credit union in his living room, spent at least 20 minutes each and every day in the lobby of the branch just talking to members to find out if we were meeting expectations, how the credit union could serve them better, and just being friendly. I also worked for a person, Jean Yokum, who was a pioneer in the industry being one of the first female leaders in the Credit Union Movement. She went all the way from teller to CEO. Because she dressed so elegantly, she was often asked where she worked and what she did for a living. Her response was always, "I'm Jean and I work at the credit union". She was amazingly humble and had an extraordinary ability to ask the right questions and see things from perspectives others did not. I've tried my best to put many of the leadership qualities I've seen in my mentors and bosses into practice.
Is there a secret of success you can share?
There is no one secret to success. I have learned that working hard, going above and beyond, mastering your position, being prepared for the next step, and treating people respectfully will never hold anyone back from succeeding.
What is the most enjoyable part of leading the FedChoice foundation?
Seeing the reaction of people when you are fulfilling a vital need is priceless. It makes all the hard work worth the effort. Also knowing that you are making a positive impact on either an individual, a group, or a community is very fulfilling.
What is your life's motto and why? What do you like to do in your free time?
I don't really have a motto. I try not to take anything too seriously and draw on my sense of humor when I can. Personally, I enjoy sports, both watching and participating. I exercise often and got into the habit of running recently. I also love to listen to music and cook. I picked up a lot of barbeque skills during the pandemic!

Do you have a special message for FedChoice members?
My special message would be how I always tend to end my communications with members. Thank you for choosing to be a member of FedChoice. The fact is that people do have choices and we would not exist without the support of our membership. We will continue to strive to exceed your expectations in the years to come!
Related Posts