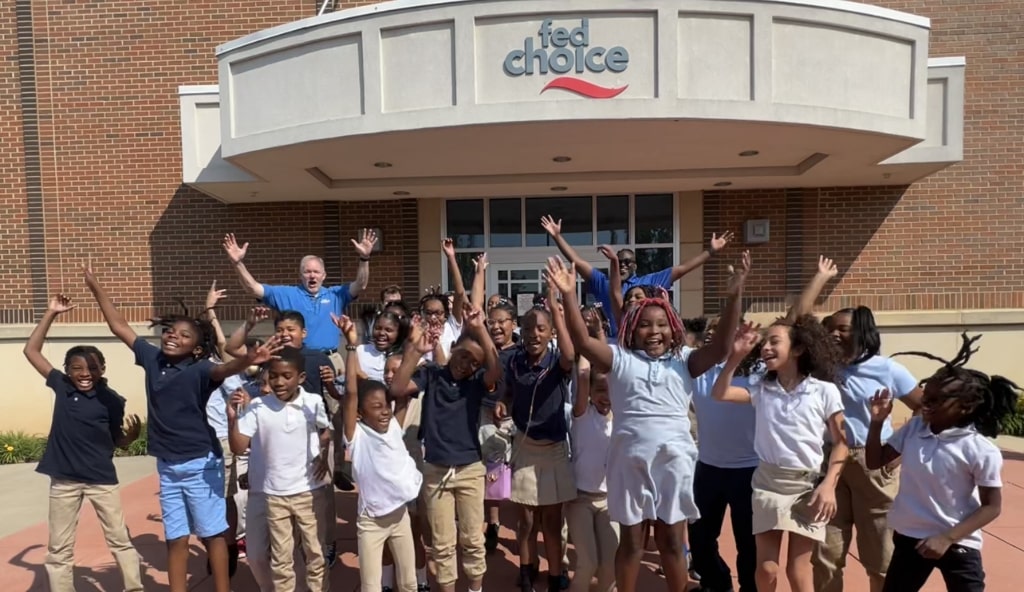 "FedChoice, I Love You!" – How 77 Third-Grade Students Changed Our Lives
At 9:30 am on Friday, June 2, Michelle Hibbert, Community Liaison at Cora L. Rice Elementary School in Landover, MD, texted: "It's unbelievable. All the students came to school on time today! They are super excited. We can't wait to see FedChoice, they say." This trip was the most anticipated event of the year for these 77 third-grade students. And not only for them.
The FedChoice Federal Credit Union headquarters were bustling with joy. Staff decorated the rooms with festive balloons and welcome signs. A group of volunteers was stuffing colorful bags with Kids' Ledgers, pens, pencils and yummy snacks. Others were placing signs describing each department to help students understand our work. Some lined up near the doors to make sure everything went smoothly.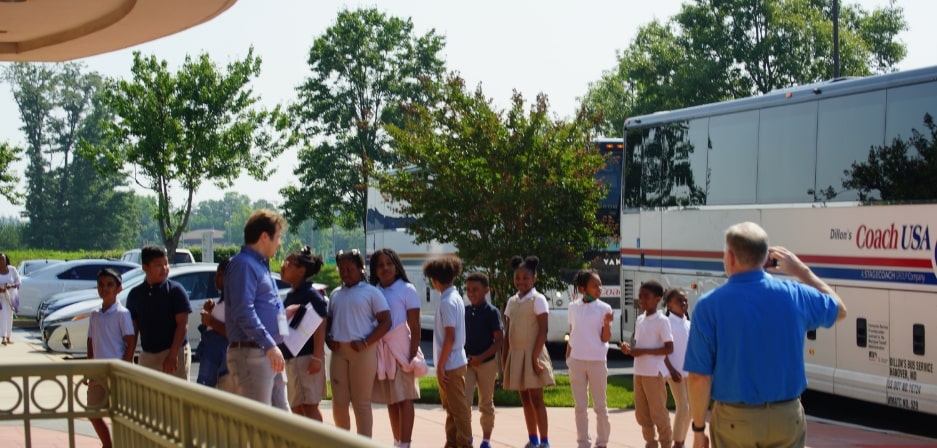 Students line up to start the FedChoice HQ tour
"They're here!" Two Coach America buses slowly approached the entrance. Smiling kids soon emerged. These amazing young people came to explore what makes credit unions so special, and they learned about it from the best source – FedChoice staff and volunteers.
As the front door opened, the magic of a credit union began. In this moment, each member of the FedChoice team became an Ambassador for the Credit Union Movement, helping students see that no matter what position you hold at a credit union, you are a messenger of the seven cooperative principles, of which caring for others is essential.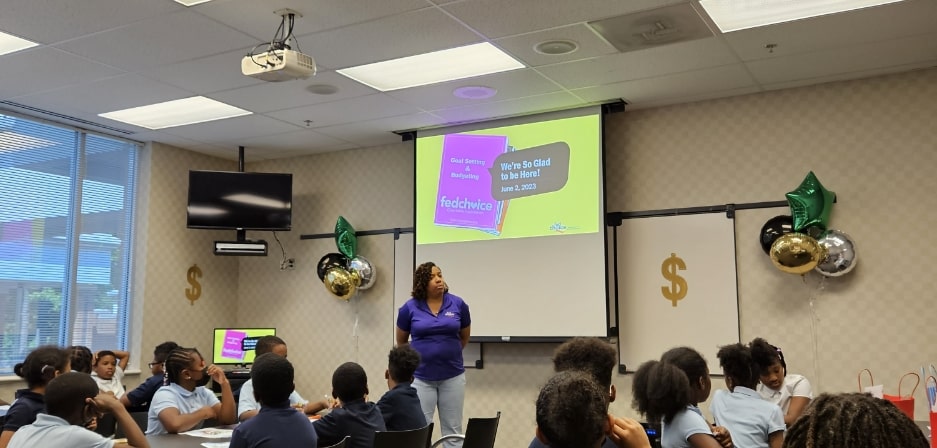 Jenny Creavalle, FedChoice FCU Business Development Specialist facilitates "The Power of Budgeting" lesson
The tour started with an interactive class on the power of budgeting. Led by Jenny Creavalle and Marcia Lynch, volunteer teachers from the Credit Union's Business Development team, the class was informative and entertaining. Students had fun learning how to set important and realistic financial goals. Each one drew something that they craved to have.
"Who can share their financial goal with me?" asked Jenny. Dozens of eager hands went up!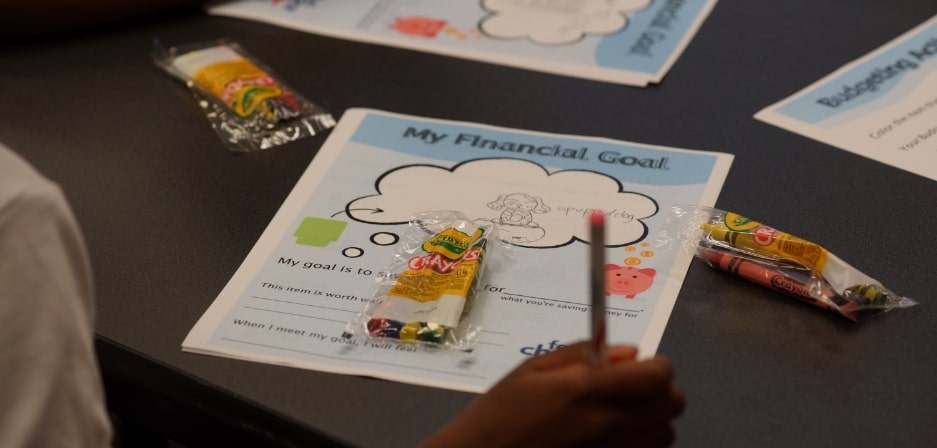 "My goal – a puppy!"

"I want to save up to buy a puppy dog," shared one of the students. "It's my dream!"
"I like that," confirmed Jenny. "All you have to do is start saving. Every day. And you will get your puppy!"
At the end of their lesson, all students received Kids' Ledgers to use on a daily basis.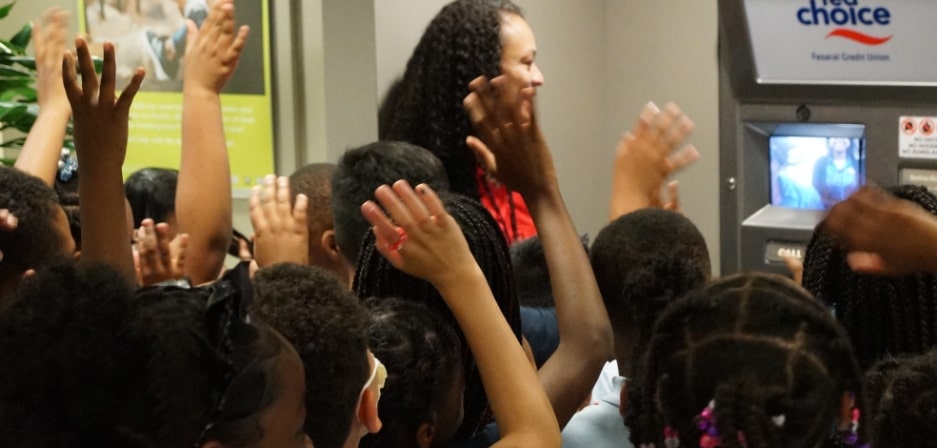 Deneen Stone FedChoice FCU retail Services Manager shows how the Interactive teller Machine works.
The next stop created a wave of excitement – the students had a first-hand branch tour. There is so much to see and experience! Deneen Stone, Retail Services Manager, demonstrated how members of FedChoice are served when they come on site. Yet the biggest hit with the kids was a cool Interactive Teller Machine – wow, we can talk with an ATM! "Of course, you can," confirmed Deneen. "Can you wave to Caroline? She is there at our Carlton Branch."
Sometimes we underestimate the practical knowledge that elementary school students might have. Wait until you hear some of the great questions these Cora L. Rice ES students had.
"How can I get a job with a credit union? Who gets to work in the Human Resources Department? What skills do we need? Can I work for FedChoice when I grow up?" Sandra Park, FedChoice Chief Strategy and People Officer, was very glad to hear these questions. Helped by her colleagues, Akela Bruce and Marguerita Haynes, Sandra explained that having great communication skills is really important.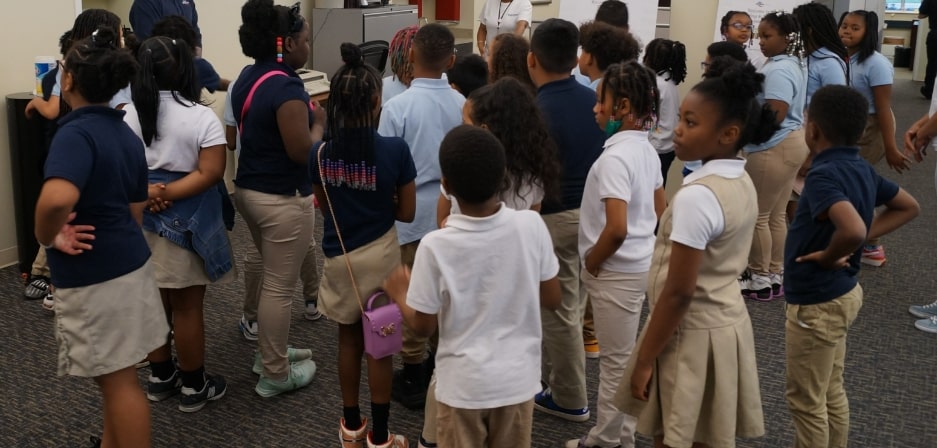 Wesley Daniel, FedChoice FCU Lending Services Director explains Lending Department's products and services to a group of students.
Wesley Daniel, Director of the Lending Services Department, led a kid-friendly presentation about auto loans, mortgages and home equity loans. He was surprised to hear that among many other issues, the children were interested in the price of the latest Tesla model, while also inquiring about the possible trade-in value of Lamborghinis and McLarens.
"But who protects the vault? Do you have private guards?" – our colleagues at the Enterprise Risk Department were asked. "What do members ask about? How many call center staff do you have?" Ed Campbell, Director of the Member Care Center, and Cynthia Harden, Operations Support Manager, were on hand to quench their curiosity. The tour of the FedChoice server room generated excitement, while CFO Ed Atuahene and colleagues from the Finance team shared what the department does and why learning your multiplication table pays off.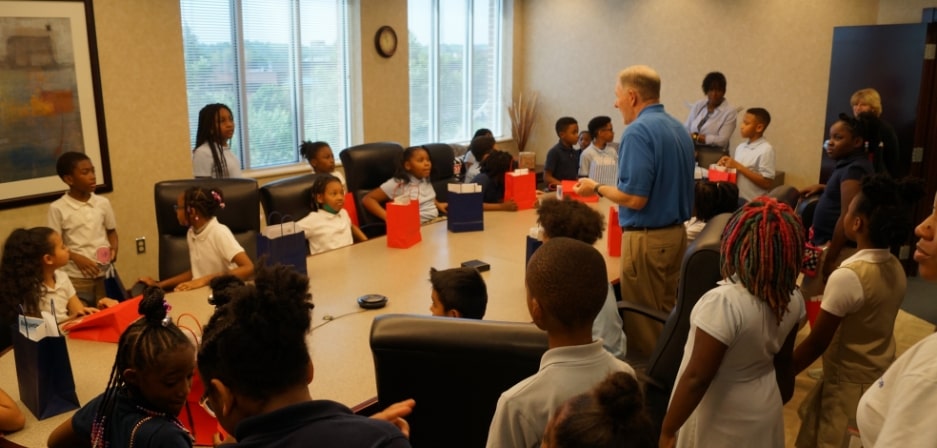 Students explore FedChoice FCU Board Room.
The final stop was the office of the CEO. "Do you have a boss?" – one of the students surprised Brett Noll, FedChoice CEO, with this straightforward question. "Well, everyone has a boss, and my boss is the Credit Union Board," smiled Brett, while further explaining the FedChoice governance structure.
Some were interested in how to become a CEO. Why not start by sitting in the President's chair? That was a popular call – an excited stream of eager students lined up to experience the view from Brett's chair. And if that's not enough, how about simulating a Board Meeting and learning the ropes of collective decision-making?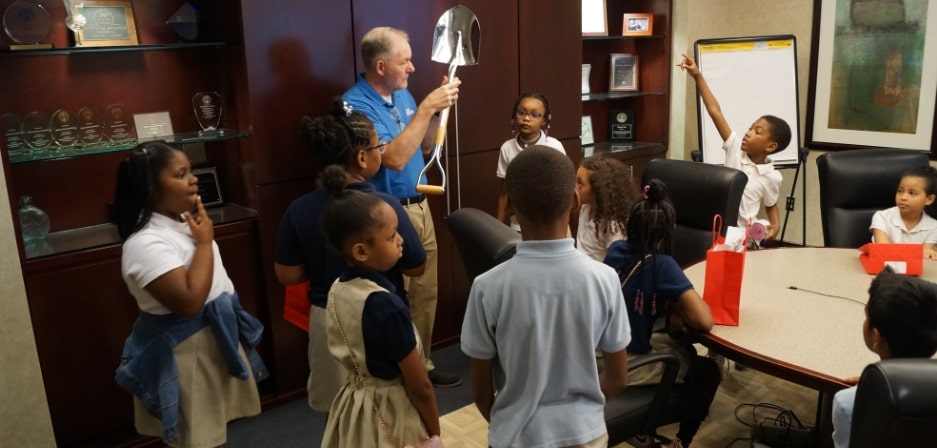 Brett Noll, FedChoice President/CEO, shows FedChoice's ceremonial groundbreaking shovel to the students.
But wait, why is there a shovel on the shelf? "This is how it all started here, in Lanham. This shiny tool was used to dig our building's foundation!"
On the return to the school campus, the field trip conversations continued as many students completed their financial goal worksheets provided at the FedChoice budgeting workshop.
Some of the students took it a step further by setting a realistic goal of saving money to purchase items at the Scholastic Book Fair. These students were charting their spending habits in their new financial ledger to make certain they had enough funds for their purchases.
Back at our headquarters, some of our staff members asked the obvious question: when are they coming back?
Our foundation's motto is to embrace, educate, and elevate. Thanks to our FedChoice colleagues, we were able to do all three of these! Most importantly, we were embraced, educated and elevated through service to others.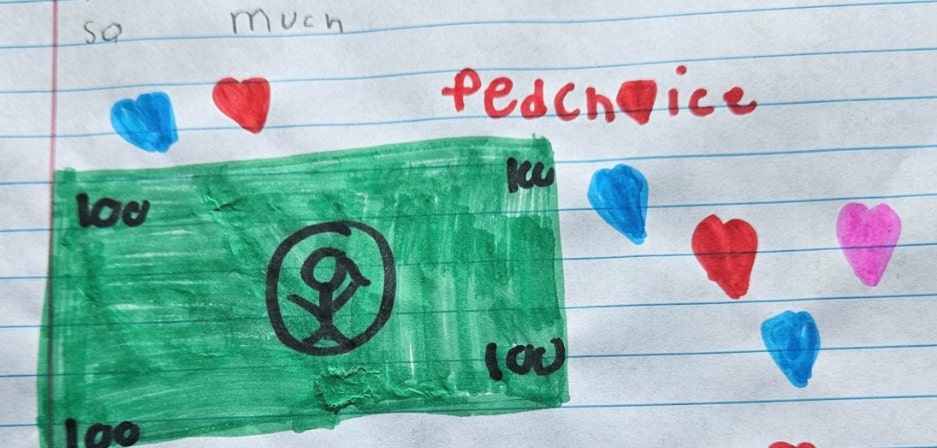 TY Letter from Arianna B.
Related Posts