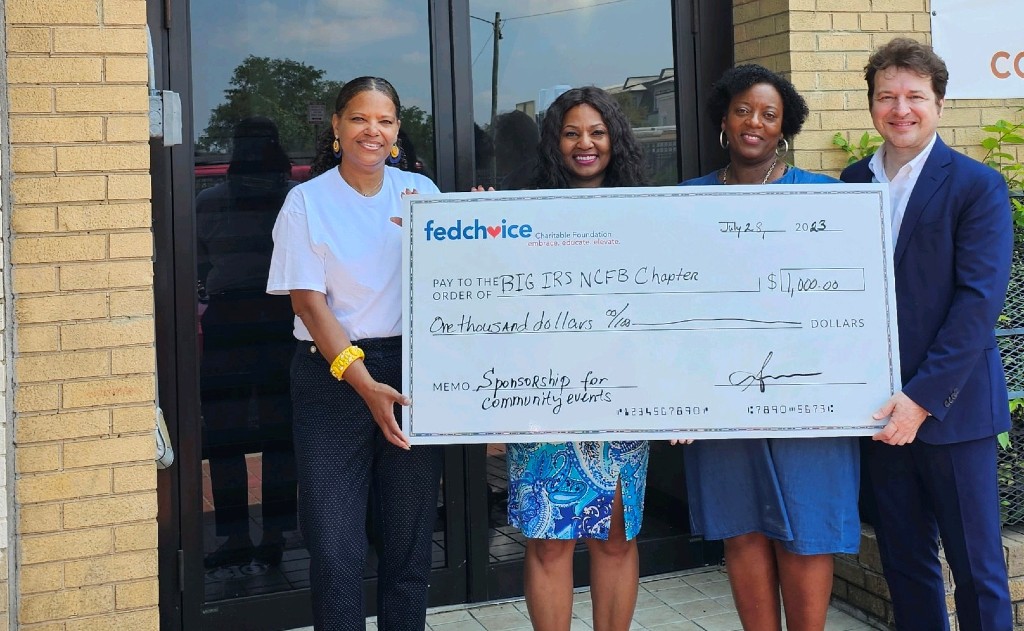 FedChoice Charitable Foundation Sponsors Blacks In Government (BIG)
DC Chapter's Community Outreach Efforts
LANHAM, MD (August 15, 2023) — The FedChoice Charitable Foundation is thrilled to announce that it is expanding its partnership with the Blacks in Government Chapter of the Internal Revenue Service at the New Carrollton Federal Building (BIG-NCFB), by supporting its community outreach efforts with a special sponsorship.
Andrey Gidaspov, Executive Director, FedChoice Charitable Foundation, and Marcia Lynch, Business Development Manager, FedChoice Federal Credit Union, presented a $1,000 community sponsorship to the BIG-NCFB Chapter President, Paula E. Davis, and First Vice President Lynn D. Simpson at the Gerald R. Reed National Office in Washington, D.C.
This sponsorship will assist the BIG-NCFB Chapter in supporting a range of community activities, such as Back-to-School drives, senior citizen community activities, and mentoring. For students of two local schools, BIG provides new backpacks filled with needed school supplies.  For a local senior care facility, the organization provides care packages of needed hygiene essentials, special socks, and blankets.  It also supports several families during the Thanksgiving and Christmas holiday seasons by providing food baskets.
On receiving this sponsorship, Ms. Davis expressed: "A BIG round of applause and thanks to FedChoice for encouraging and adding more power beneath BIG-NCFB's wings to further the reach in our community outreach!  With this boost of assistance, our reach can be expanded further."
Over the past several years, FedChoice Federal Credit Union has actively collaborated with the chapter and participated in various community activities, including "Lunch-N-Learn" sessions on financial management knowledge, and retirement matters for the New Carrollton Federal Building employees and contractors. Throughout the pandemic, FedChoice continued to support BIG-NCFB's efforts at community engagement, including the Virtual and Face-to-Face National Training Institutes in 2021 and 2022.
Ms. Davis reflected on this shared history: "The outstanding staff of FedChoice has always been open and receptive to assisting our BIG-NCFB Chapter with multiple needs, guidance to enhance our membership base, and help in meeting our overall mission and goals."
Brett Noll, Chairman of the FedChoice Charitable Foundation, stated, "We are delighted to be able to provide support to the Blacks In Government New Carrollton Federal Building Chapter. The work they do to elevate those in need goes hand in hand with the mission of our Foundation. It's also wonderful to partner with a group that represents the Internal Revenue Service, whose employees founded FedChoice Federal Credit Union nearly 80 years ago."
Related Posts